Gary Fouse
fousesquawk
http://garyfouse.blogspot.com
Hat tip Campus Reform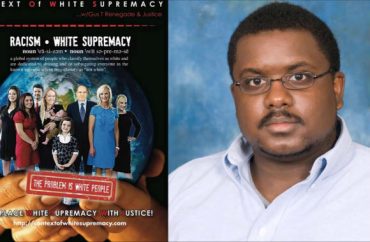 Tommy Curry
(Photo by Campus Watch)
This is as bad as it gets. This goes far beyond race hucksters talking about white privilege on campus. Here we have a black professor named Tommy Curry advocating the killing of whites He does it on the air in an interview, and he does it in class.
https://www.thecollegefix.com/post/32688/
Here is an article by the campus paper,
The Battalion
.
If we were talking about slaves rising up and killing their white masters, I would not have a problem. This is not the time of slavery. This idiot apparently thinks it is because he brings his crazy ideas into the modern day.
In my view advocating murder of a particular race is not free speech. They may not find a prosecutor willing to bring criminal charges, but if Texas A&M doesn't fire this dangerous man, every student should withdraw and every donor should stop giving money. If the president doesn't have the gonads to fire this man, then he should go too.
For a decade now I have been stating and writing that if campus anti-semitism is not dealt with by our universities, we are going to eventually see a Jewish student murdered on a college campus. After reading this, I have to conclude that if this "white privilege" nonsense isn't nipped in the bud by universities, we will see the murder of a white student on a campus simply for the reason that he or she is white.